Event Information
Stay informed
as the games approach
The power of acceptance and inclusion of all people.
The Heartbeat of the Games.
Meet Chris Nikic
To Chris, this race was more than just a finish line and celebration of victory. IRONMAN has served as his platform to become one step closer to his goal of living a life of inclusion, normalcy, and leadership.
Meet Chris Nikic
On Saturday, November 7, 2020 Special Olympics Florida athlete Chris Nikic made history as he became the first person with Down Syndrome to finish a full-distance IRONMAN triathlon crossing the finish line in 16.46.09. The IRONMAN took place in Panama City Beach.
The 21-year old Florida based athlete had already completed a half-distance triathlon (70.3 miles) this past May and became the first individual with Down Syndrome to do so. The full-distance IRONMAN triathlon competition consisted of a 2.4-mile swim, 112-mile bike and a 26.2-mile run totaling 140.6 miles, all of which needed to be completed in 17 hours.
Chris has been training for this for years and started competing in triathlons when he was 16 and has overcome so many physical obstacles to get to this point. Chris who is hopeful to qualify for the 2022 Special Olympics USA Games taking place in Orlando, has a very special motto called, 1-percent better every day. Chris works to be just 1-percent better each day and that is what helped him prepare for such an epic journey to compete and finish an IRONMAN.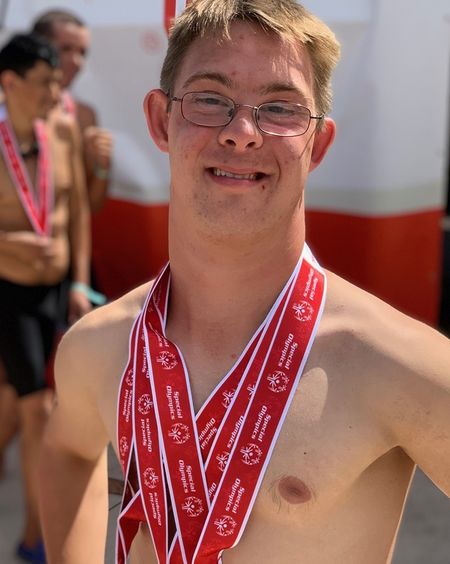 Support Those
That
Support Us